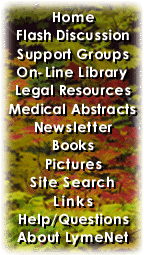 ---
LymeNet on Facebook
LymeNet on Twitter
---
---
The Lyme Disease Network receives a commission from Amazon.com for each purchase originating from this site.
When purchasing from Amazon.com, please
click here first.

Thank you.




Dedicated to the Bachmann Family


LymeNet needs your help:
LymeNet 2020 fund drive

The Lyme Disease Network is a non-profit organization funded by individual donations.

| | |
| --- | --- |
| | |
Author
Topic: Lyme story on front page in Maine

shazdancer
Frequent Contributor (1K+ posts)
Member # 1436


posted

---

Lewiston Sun Journal

My sincerest thanks to all those who spoke to the reporter at this sad time to help make this article happen.

---

Posts: 1558 | From the Berkshires | Registered: Jul 2001 | IP: Logged |

tdtid
Frequent Contributor (1K+ posts)
Member # 10276


posted

---

Thanks for sharing. It's obviously been a topic in our New Hampshire support group as well. So very sad!

Cathy

--------------------
"To Dream The Impossible Dream" Man of La Mancha


---

Posts: 2638 | From New Hampshire | Registered: Oct 2006 | IP: Logged |

Lymetoo
Moderator
Member # 743


posted

---

Great article....except:
"* They must feed on someone for 24 to 48 hours in order to transmit Lyme disease."

I disagree!!!!

What a tragedy that we lost this man. I pray that this will motivate others to initiate change. We're working on it, Bill!

--------------------
--Lymetutu--
Opinions, not medical advice!


---

Posts: 95813 | From Texas | Registered: Feb 2001 | IP: Logged |

bettyg
Unregistered



posted

---

Lost to Lyme

By Lindsay Tice , Staff Writer
Sunday, March 18, 2007 PHOTO GALLERY


Bill Chinnock's suicide means Maine's Lyme disease community has lost a champion ... and so much more. But they hope his death will bring help and maybe a cure.

When Jodi Ireland heard last week that Bill Chinnock had died, she was stunned.

When she learned he'd killed himself, she was devastated.

As neighbors in Fairfield, Chinnock had helped her find a diagnosis - Lyme disease - for the crushing fatigue, headaches and numbness that plagued her.

Chinnock, a well-known Maine rock musician, an Emmy-award-winning composer and a founding member of what became Bruce Springsteen's E Street Band, was waging his own battle with Lyme. The little-understood tick-borne illness can leave patients debilitated, in pain, confused and forgetful. Still, he encouraged Ireland. He was hopeful.

"I don't know how he did it, but he always stayed so positive," Ireland said.

Like many Lyme patients, Chinnock - a husband and father - had his ups and downs. But he always seemed eager to help others, eager to tell them they'd be all right. In Maine, he was the Lyme disease community's champion. He was its rock.

And then, late last week, police were called to Chinnock's home. His manager said he committed suicide. In the press, his sister blamed it on the disease.

The news sent the Lyme community reeling.

"I just lost it. I kept saying 'I can't believe he did that,'" said Ireland, a dance teacher now struggling with a Lyme relapse. "I can't believe he gave up."

'Survive and rise above'

Over 23,000 new cases of Lyme disease were reported in the U.S. in 2005, nearly 250 of those in Maine, according to the National Centers for Disease Control. But because testing isn't always accurate and because Lyme can mirror other diseases, experts say there were likely many more new cases than that.

Lyme can cause myriad symptoms, including exhaustion, joint pain and a generally "foggy" feeling. If caught early, experts say, the disease can be cured with antibiotics. But some people aren't diagnosed for years. When that happens, despite long-term antibiotics, their symptoms are chronic and severe, turning them from healthy to bed-ridden without warning.

"It's almost like a death every time you get sick again," Ireland said.


AUDIO: Constance Dickey describes Lyme disease and talks about overall stats

AUDIO: What can you do to prevent lyme disease?

AUDIO: Tell us about Bill Chinnock Audio

Many Lyme patients go from doctor to doctor, getting diagnosed with every disease but Lyme. Some lose their jobs because they can't keep up with the workload. Others lose relationships because friends and family don't understand the illness.

In Maine, the Lyme disease community is particularly close.

A handful of support groups meet every month, trading help and advice. An online Yahoo group has 175 members who post hundreds of messages each month. For some, it's the only place they can find real understanding.

"Other people say 'Well, you look good.' I hate that expression. Never mind that it took me all day to take a shower. Maybe I can put on mascara by the time my husband gets home," said Gail Richard, a former special education teacher who lives in Livermore Falls.

Chinnock and Ireland both became sick in the late 1990s. They lived down the road from each other and he worked out at a gym she owned with her husband, she said.

"We realized we were both having a lot of the same symptoms," Ireland said.

Exhaustion. Headaches. Heart palpitations. Numbness. They checked for chemicals in the water. He went to doctors out of state. She went to doctors locally.

"Basically his doctors told him he was crazy and mine told me I had fibromyalgia and to go home and cope," Ireland said.

Chinnock eventually saw a doctor in Connecticut, where Lyme was named (after the town of Lyme, Conn.) and diagnosed in the 1970s. He called Ireland, excited, urging her to be tested for Lyme disease, too.

They both had it.

"I will always feel that I owe him so much. He helped save my life," Ireland said.

Chinnock and Ireland went through treatment, including antibiotics, but some symptoms persisted. After Chinnock moved to Yarmouth several years ago, the pair kept in touch.

They each had their ups and downs. Sometimes Chinnock felt well enough to put in a 17-hour day producing a new album. Sometimes he couldn't work at all. But no matter what was going on with his own health, Chinnock sought out others to help.

"So many people are so sick and so few doctors know enough," Ireland said.

He advocated for greater Lyme disease public education. He met with Lyme sufferers, recommending doctors and suggested treatments. Sometimes he simply commiserated, a blessing to patients who felt unheard for so long.

He was constantly upbeat, unfailingly positive.

Already a music legend as a songwriter and guitarist, Chinnock soon became a legend in the Lyme community as well.

"A lot of people knew Bill. He helped a lot of people get diagnosed," said Constance Dickey of Hampden, founder of the MaineLymeDisease support group on Yahoo and chairwoman of the International Lyme and Associated Diseases Society.

Stacey Cimino, a southern Maine resident, met Chinnock after learning she had Lyme. She'd been dealing with the symptoms - headaches, seizures, tremors, breathing and heart problems - for a decade. Doctors told her she had everything from Lou Gehrig's disease to stress. By the time Cimino was diagnosed with Lyme, she was sick and tired of being sick and tired.

Chinnock sent her an e-mail.

"He said 'God has a plan for people. You'll get through this,'" she said.

He offered advice in his letters, telling her about his own experience with a new treatment. He encouraged her, like he encouraged so many people, to keep fighting.

"You will survive and rise above," he wrote.

Grief and hope

In 2004 and 2005, Chinnock seemed to be doing well. He'd found an herbal supplement that helped and he was working long hours on a new album, the first in years.

But when Chinnock called to check in with Ireland last year, he told her he wasn't feeling well again. That was the last time she heard from him.

On March 2, Chinnock's live-in caretaker called police to his Yarmouth home. His manager said he committed suicide.

Chinnock was 59.

"This has been a huge emotional blow," said Dickey, the support group founder. "It has rocked the community."

Some now wonder how they can possibly be strong enough to handle the waves of pain and fatigue if Chinnock, their champion, couldn't.

"It broke my heart because I know what he goes through, I know what he went through," said Richard, the former special education teacher. "There are some days you don't want anyone to talk to you or touch you, the pain is so bad. I walk from window to window and look outside. I'm 52 years old and I feel 80."

For a week, online message boards have buzzed with news of Chinnock's death.

"I'm sure many of us here have had thoughts similar on our very worst days. How bad must he have been to take that last final step? My heart breaks for him," wrote one person on Lymenet.org.

"I pray that he has found peace at last," wrote another.

LymeMemorial.org now lists Chinnock among 230 people who have died from Lyme or other tick-borne diseases.

But even as they grieve, Lyme patients say they also have hope: that Chinnock's death will not be in vain.

"I hope someone in Augusta is paying attention," said Dickey.

They want publicity. They want Lyme disease education for doctors and the public. They want passage of a federal bill earmarking $100 million for Lyme disease research and prevention. They want passage of a state bill that forces insurance companies to cover Lyme patients, requires employers to educate workers about Lyme if they work in a high risk area and creates a study of Lyme disease issues.

It's all been missing, they say. And maybe now, with Chinnock's death, it will come.

"I bet that's what he would have wanted, too," Ireland said.

Lyme disease facts

* Nearly 250 new cases were reported in Maine in 2005, the last year data is available.

* Disease comes from deer ticks.

* Symptoms often begin within days or weeks and sometimes come with a red rash that can look like a bull's-eye.

* More severe symptoms include joint pain, fatigue, muscle aches, headaches, nervous system problems, facial paralysis and a general "foggy" feeling.

* Lyme can mirror other illnesses and is sometimes misdiagnosed as arthritis, Lou Gehrig's disease (ALS), fibromyalgia, chronic fatigue syndrome and multiple sclerosis.

* Treatment is a course of antibiotics, although doctors debate how long treatment should last.
Deer tick facts

* Both baby deer ticks and adult deer ticks can transmit Lyme disease.

* Baby deer ticks are about the size of a pinhead.

* Adult deer ticks are often shiny, reddish brown with black heads.

* Deer ticks favor trees and leaves, although they can be found on the coast or in grass.

* They must feed on someone for 24 to 48 hours in order to transmit Lyme disease.

* They can also transmit ehrlichiosis, a rare disease with flu-like symptoms, and babesiosis, a malaria-like disease that affects red blood cells.

* Use insect repellents with DEET and protective clothing to prevent tick bites. For pets, use only repellents OK'd by a vet.

* To remove a tick, grasp it with fine tweezers as close to the skin as possible. Pull gently but firmly. It could take several minutes. Do not handle ticks with your bare hands.
What you can do

* Several U.S. centers test ticks for Lyme disease, including those listed below. Contact each for information on price, response time and proper procedure for mailing.


North American Laboratory
New Britain, CT
(203) 826-1140
800-866-NALG


New Jersey Laboratories
New Brunswick, NJ
(732) 249-0148


IgeneX
Palo Alto, California
http://www.igenex.com/
(415)424-1191
800-832-3200


Tick Research Laboratory
Kingston, Rhode Island
(401)874-2650

The Vector-borne Disease Laboratory at Maine Medical Center identifies ticks and can tell whether they have fed long enough to transmit Lyme. It is free.


Ask your doctor or veterinarian to send the tick or do it yourself by sealing the tick in a small, crush-proof container with alcohol. Include the form found at www.mmcri.org/lyme/lymehome.html and mail it to:

Vector-Borne Disease Laboratory
Maine Medical Center Research Institute
75 John Roberts Road, Suite 9B
South Portland, ME 04106

Sources: Maine CDC, the Vector-Borne Disease Laboratory, Lymenet.org, International Lyme and Associated Diseases Society

Comments
************

Posted By:Sharon at March 18, 2007 6:30 AM

My deepest thanks to Lindsay Tice for helping to educate the community on this disease. Thanks also to all those who took the time and energy to do the interviews at this sad time. There will be a discussion group on Lyme issues next Saturday at 12 noon at the Auburn Public Library, and a larger Tick Talk there on May 10 at 5:00 p.m. For further information, feel free to contact me at [email protected]


Posted By:Vinny at March 18, 2007 11:30 AM

I'm sorry to hear of Bill's passing. His live band was a local rock must-see in the 1970's, during WBLM's halcyon days when Bill's band got airplay, when the Loft in Portland and the Red Stallion at Sugarloaf were two popular live music venues. I'm not a doctor, but can relate perhaps a similar experience.

While in Africa in Peace Corps I got African tick bite fever a few times, and the first couple times I got quite sick. Actually, very sick the first time, I thought I had contracted malaria. I didn't know what I had, but a blood test verified the tick bite infection. I was treated with Doxycycline, and this worked. I've had no long-term side effects as far as I'm aware. I augmented my treatment with a 20 year long exercise regimen, and zero alcohol or drug intake of any kind, except daily caffeine intake (coffee), and the occasional aspirin for colds or flu. Deer ticks that cause Lyme disease though might be worse than the African version of the disease?

Perhaps a doctor could advise. Ticks are hard to spot including African ticks, the one that cause the disease are small, and seek out warm moist areas like between the toes, armpits, groin area, behind the ears.


thanks for posting this sad story; well-written article otherwise!

---

IP: Logged |

Geneal
Frequent Contributor (5K+ posts)
Member # 10375


posted

---

It was a very moving article that does highlight the intenseness of this disease.

So sad that someone had to take their own life to get some relief.

Hope he is at peace at last.

Hugs,

Geneal

---

Posts: 6250 | From Louisiana | Registered: Oct 2006 | IP: Logged |

wilsongal22
LymeNet Contributor
Member # 11210


posted

---

Wow, that was a great article. I also disagree with the 24-48 hour feeding thing about ticks. I don't agree with that. Sorry.

But, that is sad that someone had to take his one life because of Lyme. That is horrible.

Thanks for sharing this!

--------------------
Jesus sweated blood over the task that lay before Him.He could have escaped his brutal execution at anytime,but he didn't he stayed there for you.

God bless,Christi


---

Posts: 306 | From Alabama | Registered: Feb 2007 | IP: Logged |

sixgoofykids
Moderator
Member # 11141


posted

---

quote:

---

Originally posted by wilsongal22:
I also disagree with the 24-48 hour feeding thing about ticks.

---

I disagree, too! All you have to do to get Lyme from a tick is to burn it off like my step-father used to do ...

--------------------
sixgoofykids.blogspot.com


---

Posts: 13449 | From Ohio | Registered: Feb 2007 | IP: Logged |
Contact Us | LymeNet home page | Privacy Statement

Powered by UBB.classic™ 6.7.3

---
The Lyme Disease Network is a non-profit organization funded by individual donations. If you would like to support the Network and the LymeNet system of Web services, please send your donations to:
The Lyme Disease Network of New Jersey
907 Pebble Creek Court, Pennington, NJ 08534 USA
http://www.lymenet.org/
---
Home | Flash Discussion | Support Groups | On-Line Library
Legal Resources | Medical Abstracts | Newsletter | Books
Pictures | Site Search | Links | Help/Questions
About LymeNet | Contact Us
---
© 1993-2020 The Lyme Disease Network of New Jersey, Inc.
All Rights Reserved.
Use of the LymeNet Site is subject to Terms and Conditions.
---