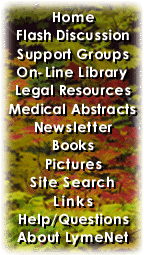 ---
LymeNet on Facebook
LymeNet on Twitter
---
---
The Lyme Disease Network receives a commission from Amazon.com for each purchase originating from this site.
When purchasing from Amazon.com, please
click here first.

Thank you.




Dedicated to the Bachmann Family


LymeNet needs your help:
LymeNet 2020 fund drive

The Lyme Disease Network is a non-profit organization funded by individual donations.

| | |
| --- | --- |
| | |
Author
Topic: Hospital medical errors continue to climb

Neil M Martin
LymeNet Contributor
Member # 2357


posted

---

Public release date: 2-Apr-2007
[ Print Article | E-mail Article | Close Window ]

Contact: Scott Shapiro
[email protected]
720-963-6584
HealthGrades

Hospital errors rise 3 percent -- HealthGrades patient-safety study

Top-performing hospitals had 40 percent lower rate of medical errors compared with poorest performers

GOLDEN, Colo. (April 2, 2007) -- Patient safety incidents at the nation's hospitals rose three percent over the years 2003 to 2005, but the nation's top-performing hospitals had a 40 percent lower rate of medical errors when compared with the poorest-performing hospitals, according to the largest annual study of patient-safety issued today by HealthGrades, the leading independent healthcare ratings company.

The HealthGrades study of 40.56 million Medicare hospitalization records over the years 2003 to 2005 also found:

Patient-safety incidents continue to rise in American hospitals, with 1.16 million preventable patient-safety incidents occurring over the three years studied among Medicare patients in the nation's hospitals, an incidence rate of 2.86 percent.

247,662 deaths were potentially preventable over the three years, and Medicare patients who had one or more patient-safety incidents had a one-in-four chance of dying.

The excess cost to hospitals was $8.6 billion over three years, with some of the most common incidents proving to be the most costly.
Ten of the 16 patient-safety incidents tracked worsened from 2003 to 2005, by an average of almost 12 percent, while seven incidents improved, on average, by six percent. Patient-safety incidents with the greatest increase in incident rates were post operative sepsis (34.28 percent), post-operative respiratory failure (18.70 percent) and selected infections due to medical care (12.23 percent).

Patient-safety incidents with the highest incidence rates were decubitus ulcer, failure to rescue and post-operative respiratory failure.

"The cost of medical errors at American hospitals in both mortality and dollar terms continues to be significant, and the 'chasm in quality' between the nation's top and bottom hospitals, which HealthGrades has documented in this and other studies, remains." said Dr. Samantha Collier, HealthGrades' chief medical officer and the primary author of the study. "But the nation's best-performing hospitals are providing benchmarks for the hospital industry, exercising a vigilance that resulted in far fewer inhospital incidents among the Medicare patients studied."

The fourth annual HealthGrades Patient Safety in American Hospitals Study applies methodology developed by the U.S. Department of Health and Human Services' Agency for Healthcare Research and Quality to identify the incident rates of 13 patient safety incidents among Medicare patients at virtually all of the nation's nearly 5,000 nonfederal hospitals. Additionally, HealthGrades applied its methodology to identify the best-performing hospitals, or Distinguished Hospitals for Patient Safety™, which represent the top five percent of all U.S. hospitals.

Ratings for individual hospitals were posted today to HealthGrades' consumer Web site, www.healthgrades.com.

The following are the 16 patient-safety incidents studied:

Accidental puncture or laceration
Complications of anesthesia
Death in low-mortality DRGs
Decubitus ulcer
Failure to rescue
Foreign body left in during procedure
Iatrogenic pneumothorax
Selected infections due to medical care
Post-operative hemorrhage or hematoma
Post-operative hip fracture
Post-operative physiologic metabolic derangement
Post-operative pulmonary embolism or deep vein thrombosis
Post-operative respiratory failure
Post-operative sepsis
Post-operative abdominal wound dehiscence
Transfusion reaction

Distinguished Hospital Awards and Findings

Of the nearly 5,000 hospitals studied, the HealthGrades study identified 242 hospitals - those in the top five percent of all hospitals -- to serve as a benchmark against which other hospitals can be evaluated, naming them Distinguished Hospitals for Patient Safety.

On average, these hospitals had a 40 percent lower rate of patient-safety incidents when compared with the poorest-performing hospitals. If all hospitals performed at the level of the Distinguished Hospitals for Patient Safety, the study found:

Approximately 206,286 patient-safety incidents and 34,393 Medicare deaths could have been avoided; and $1.74 billion could have been saved.

To be ranked in overall patient-safety performance, hospitals had to be rated in at least 19 of the 28 procedures and diagnoses rated by HealthGrades and have a current overall HealthGrades star rating of at least 2.5 out of 5.0. The final ranking set included 752 teaching hospitals and 857 non-teaching hospitals. The top 15 percent, or 242 hospitals, were identified as Distinguished Hospitals for Patient Safety, and represent less than five percent of all U.S. hospitals examined in the study.

The study says, "Despite the flurry of research, publications and process improvement activity that has occurred since the IOM report there is a growing consensus that not much progress has been made leading to a visible national impact. Our findings support this consensus. However, our findings also support that progress continues to be made at the top. Distinguished Hospitals for Patient Safety continue to lead the nation in providing safer care...resulting in much lower costs to society. We believe that Distinguished Hospitals have deliberately chosen and maintained patient safety as a top priority."

A PDF is available at http://www.eurekalert.org/images/release_graphics/pdf/PatientSafetyInAmericanHospitalsStudy2007Embargoed.pdf

The full study is available at www.healthgrades.com.

About HealthGrades

Health Grades, Inc. (Nasdaq: HGRD) is the leading healthcare ratings organization, providing ratings and profiles of hospitals, nursing homes and physicians. Millions of consumers and many of the nation's largest employers, health plans and hospitals rely on HealthGrades' independent ratings and decision-support resources to make healthcare decisions based on the quality and cost of care. More information on the company can be found at http://www.healthgrades.com.

I wonder how many of the deaths in "low-mortality DRGs" were directly or indirectly due to Lyme.

--------------------
Neil


---

Posts: 697 | From Tucson, AZ USA | Registered: Apr 2002 | IP: Logged |

lou
Frequent Contributor (5K+ posts)
Member # 81


posted

---

What is a drg?

---

Posts: 8430 | From Not available | Registered: Oct 2000 | IP: Logged |

Neil M Martin
LymeNet Contributor
Member # 2357


posted

---

Hi Lou; Glad you asked "What is a DRG?"

I bet half the class doesn't know.

To get paid for admitting a Medicare patient a hospital must send Medicare an approved diagnosis. Medicare pays approved amounts for approved diagnoses, but does not have the time or manpower to chase all patients through all their patient days.

So they use a simplified system of codes that lump patients into groups for payment purposes.

The groups,called "Diagnosis Related Groups" or DRGs, are the product of an effort by Harvard et al in 1985. They number in the hundreds, and tell hospitals in advance if a diagnosis is Medicare approved, what Medicare pays per day to treat the condition and the number of in-patient days that Medicare will pay the hospital to turn over the patient.

If a hosiptal releases a patient in less days than the DRG pays, the hospital keeps the change.

If a patient stays beyond the days the DRG pays then the hospital absorbs costs for those days.

Scenario: a refractory Lyme disease ER patient. Their LLMD advises open ended IV antibiotics for weeks. Possibly months, with out-patient open-ended care. The hospital scans the DRGs for Lyme disease and finds...

WHAT?

I looked but did not find the answer. I DID find that DRGs were compiled in 1985 at Harvard.

And it seems the HHS has endorsed the IDSA's 14-28 days oral antibiotics treatment guidelines for Lyme.

In HHS.GOV. the "search" engine cranks out 1050
hits for IDSA. Most if not all are promoting the IDSA as a credible source of information.

I serached "ILADS" there and gots one hit, from healthfinder.gov/newsletters.

So I suspect a lightweight DRG or none at all for Lyme disease.

Which would mean strong hosptial/medical school disincentive to diagnose Lyme disease or contract with ID doctors not IDSA approved.

This might also explain why mp LLMD has wond the AMD "Distinguished physician" award.

Worse, other conditions that mimic Lyme pay VERY well. Such as CIDP, which pays about $10,000 a day for 10 days. I know a Lyme disease patient diagnosed CIDP who was turned over in one to two days inpatient.

The patient did not make any progressive gains on CIDP treatments. But once on antibiotics the patient was able to go without CIDP treatments.

STILL their insurer wanted to treat them for CIDP.


Another Lyme patient was admitted-and released- three times in three days. A psychiatrist saw the patient in the ER. He was unhelpful and did not deal with Lyme. Another Lyme patient was sent to a sort of nursing home.

So I want to know if a DRG exists for LD/RLD and how many days/ what weight it carrries.

Is Lyme an "outlier?"

Google DRG + Medicare http://www.ahd.com/pps.html

[email protected]
-----------------------------------

Medicare Prospective Payment System

Introduction

The Medicare Prospective Payment System (PPS) was introduced by the federal government in October, 1983, as a way to change hospital behavior through financial incentives that encourage more cost-efficient management of medical care. Under PPS, hospitals are paid a pre-determined rate for each Medicare admission.

Each patient is classified into a Diagnosis Related Group (DRG) on the basis of clinical information. Except for certain patients with exceptionally high costs (called outliers), the hospital is paid a flat rate for the DRG, regardless of the actual services provided.

Each Medicare patient is classified into a Diagnosis Related Group (DRG) according to information from the Medical Record that appears on the bill:

Principal Diagnosis (why the patient was admitted)
Complications and Comorbidities (CCs - other secondary diagnoses)
Surgical Procedures
Age
Gender
Discharge Disposition (routine, transferred, or expired)

How it Works
Diagnoses and procedures must be documented by the attending physician in the patient?s medical record. They are then coded by hospital personnel using ICD-9-CM nomenclature. This is a numerical coding scheme of over 13,000 diagnoses and 5,000 procedures.

The coding process is extremely important since it essentially determines what DRG will be assigned for a patient. Coding an incorrect principal diagnosis or failing to code a significant secondary diagnosis can dramatically effect reimbursement.

There are over 490 DRG categories defined by the Centers for Medicare and Medicaid Services (CMS, formerly known as HCFA). Each category is designed to be "clinically coherent." In other words, all patients assigned to a DRG are deemed to have a similar clinical condition. The Prospective Payment System is based on paying the average cost for treating patients in the same DRG.

Each year CMS makes technical adjustments to the DRG classification system that incorporate new technologies (e.g. laparoscopic procedures) and refine its use as a payment methodology. CMS also initiates changes to the ICD-9-CM coding scheme. The DRG assignment process is computerized in a program called the grouper that is used by hospitals and fiscal intermediaries.

Each year CMS also assigns a relative weight to each DRG. These weights indicate the relative costs for treating patients during the prior year. The national average charge for each DRG is compared to the overall average. This ratio is published annually in the Federal Register for each DRG. A DRG with a weight of 2.0000 means that charges were historically twice the average; a DRG with a weight of 0.5000 was half the average.

Top 10 DRGs
The ten highest volume Medicare DRGs represent about 30% of total Medicare patients. Each of these higher volume DRGs represent from about 2% to 6% of total Medicare volume.

Heart Failure & Shock

Simple Pneumonia & Pleurisy Age>17 w/CC1

Specific Cerebrovascular Disorders except TIA

Psychoses

Chronic Obstructive Pulmonary Disease

Major Joint & Limb Reattachment Procedures, Lower Extremity

Angina Pectoris

Esophagitis, Gastroent & Misc Digest Disorders Age>17 w/CC1

G.I. Hemorrhage

Nutritional & Misc Metabolic Disorders

Source: Health Care Financing Administration, 1994.

DRG-based Payments
The DRG payment for a Medicare patient is determined by multiplying the relative weight for the DRG by the hospital?s blended rate:

DRG PAYMENT = WEIGHT x RATE
The hospital?s payment rate is defined by Federal regulations and is updated annually to reflect inflation, technical adjustments, and budgetary constraints. There are separate rate calculations for large urban hospitals and other hospitals. There are also technical adjustments for local wage variations, teaching hospitals, and hospitals with a disproportionate share of financially indigent patients.

Management Perspectives
The average DRG weight for all of a hospital?s Medicare volume is called the case mix index (CMI). This index is very useful in analysis since it indicates the relative severity of a patient population and is directly proportional to DRG payments. When making comparisons among various hospitals or patient groups, the case mix index can be used to adjust indicators such as average charges. (Case mix adjusted average charges would be actual charges divided by the CMI. Such adjustments are sometimes referred to as "Average charges for a weight of 1.0000.")

The DRG classification system is a useful tool for managing inpatient quality measurements and operating costs. It groups patients by diagnostic category for analysis and provides several key measurements of resource utilization (e.g. average length of stay vs published national averages).

The Medicare Prospective Payment System was first introduced in 1985 to reimburse hospitals for inpatient operating expense only. An Outpatient Prospective Patient System was introduced in 2000 to reimburse hospitals based on over 660 Ambulatory Payment Classifications (APCs).

--------------------
Neil


---

Posts: 697 | From Tucson, AZ USA | Registered: Apr 2002 | IP: Logged |

CaliforniaLyme
Frequent Contributor (5K+ posts)
Member # 7136


posted

---

OMG!! Last night on CNN they had a guy who was suing for $200,000 because they removed the wrong TESTICLE!!!!

I am sorry but that is NOt enough!!!!!!!!!!!!!
He should sue for WAY more!!!!!!!!!!!!!!!!

--------------------
There is no wealth but life.
-John Ruskin

All truth goes through 3 stages: first it is ridiculed: then it is violently opposed: finally it is accepted as self evident. - Schopenhauer


---

Posts: 5639 | From Aptos CA USA | Registered: Apr 2005 | IP: Logged |

caat
Frequent Contributor (1K+ posts)
Member # 2321


posted

---

that all might explain why when I went to one hospital for multiple vein breakage AND clotting(yeast!!) they sonogramed the wrong part of my leg, refused to sonogram where the clot was (!!) and wrote some really bizarre diagnosis. Something completely unrelated like "sprained ankle"...

I confronted the doctor and he looked like he wanted to crawl under a rock. He said he didn't know what to put as a dx...

This could have been funny except I think there was a real risk of heart attack...

I felt like I had participated in a monty python skit.

---

Posts: 1436 | From Humboldt county ca usa | Registered: Mar 2002 | IP: Logged |
Contact Us | LymeNet home page | Privacy Statement

Powered by UBB.classic™ 6.7.3

---
The Lyme Disease Network is a non-profit organization funded by individual donations. If you would like to support the Network and the LymeNet system of Web services, please send your donations to:
The Lyme Disease Network of New Jersey
907 Pebble Creek Court, Pennington, NJ 08534 USA
http://www.lymenet.org/
---
Home | Flash Discussion | Support Groups | On-Line Library
Legal Resources | Medical Abstracts | Newsletter | Books
Pictures | Site Search | Links | Help/Questions
About LymeNet | Contact Us
---
© 1993-2020 The Lyme Disease Network of New Jersey, Inc.
All Rights Reserved.
Use of the LymeNet Site is subject to Terms and Conditions.
---