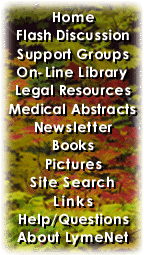 ---
LymeNet on Facebook
LymeNet on Twitter
---
---
The Lyme Disease Network receives a commission from Amazon.com for each purchase originating from this site.
When purchasing from Amazon.com, please
click here first.

Thank you.




Dedicated to the Bachmann Family


LymeNet needs your help:
LymeNet 2020 fund drive

The Lyme Disease Network is a non-profit organization funded by individual donations.

| | |
| --- | --- |
| | |
Author
Topic: What do you hear during Auditory Hallucinations?

swachsler
LymeNet Contributor
Member # 18155


posted

---

I decided not to post this in "medical" because I'm really just curious, and it feels *so freeing* to be able to discuss this openly. Whee.

I say this because this was the one symptom - auditory hallucinations - that I hid from *everyone* for quite awhile - my docs, my best friends, my honey, etc.

So, for 14 months I've have auditory hallucinations. Not all the time. The frequency and duration comes and goes.

85% of the time it's music. It's usually music I really don't like. Like heavy metal/death metal, opera, country/western, etc.

Sometimes it'll be a weird mix, like a techno version of a waltz.

Often it's music I don't even know!

Every once in a while it's a song I know and like, and that's a huge relief, except if it plays forever, and then I can't get it out of my head even when I'm not hallucinating! (e.g., for two days recently, was Chariots of Fire theme song.)

Every once in the while, it's the telephone ringing or dog barking. Then I realize the dog is asleep, or the phone isn't flashing, or I say to my honey, "Is that the telephone?"

And she says, "What?"

And I say, "Nevermind. Hallucination."

Also, mine happen the most at night. Is this true for any of y'all?

Show of hands? Auditory hallucinations?

What do you hear? How long do they last?

Annoying? Scary? Background musak?

-Sharon
PS - Right now, Tears for Fears' "Everybody Wants to Rule the World."

---

Posts: 223 | From Western Mass. | Registered: Nov 2008 | IP: Logged |

Starfall1969
Frequent Contributor (1K+ posts)
Member # 17353


posted

---

I've only had this very infrequently.

The most notable was when my kids and I were sitting in the living room in the middle of the day, and I very distinctly heard somethng like a clock radio going off.

Didn't recognize the song, and couldn't tell what room it was in.

I went all over the house trying to figure it out, and never did find where it was coming from.

My son asked what I was doing, and I said I was trying to figure out where that music was coming from.

He said, "What music? I don't hear anythihng."

Now what I was hearing was quite loud, so for him not to have heard it, it must not have been there.

I thought for sure we had a ghost or something.

And tht showed up about the time my smell hallucinations--always cigarette smoke-- showed up.

Other times I have heard someone calling my name or talking right beside me.

I have asked my husband what he said, and he answers that he didn't say anything, when I know very well I heard something.

---

Posts: 1682 | From Dillsburg, PA | Registered: Sep 2008 | IP: Logged |

Keebler
Honored Contributor (25K+ posts)
Member # 12673


posted

---

-

Sometimes, what may seem like auditory hallucinations can be tinnitus. Tinnitus can sound like MANY things - and it can change or have layers of different frequencies.


And, if there is a motor running anywhere with a block or two, those vibrations can create a sense of auditory hallucinations when, in fact, it's the inner ear and brain on overload - very common in a toxic illness as lyme and other TBD (tick-borne disease).


Just as vibrations from motors can stimulate auditory sensations so, too, can even the sound of running water. It is not uncommon to hear the phone ring when doing dishes.


The frequency of the water is the same frequency range and stimulates place in the brain and fools the brain. This is not a hallucination, but sure can seem like it when no one is at the other end of the phone when it's picked up.


Magnesium can often calm auditory hallucinations if caused by the NMDA receptors being too excited. The use of aspartame/Nutrasweet/Equal and MSG (in all its names) should be avoided as these are neurotoxic and heighten the NMDA receptors which can stimulate the brain's auditory system.


In excess, these signals are like seizure activity. And, if the inner ear system is at all swollen or inflamed, all sorts of sounds may be rolling around between our ears.


I caution the use of the term "hallucinations" with any regular doctor. They will not understand the complex layers and you run the risk of being labeled as a psych. patient forever.

It has happened - especially for patients who also have hyperacusis.


-----


http://flash.lymenet.org/scripts/ultimatebb.cgi?ubb=get_topic;f=1;t=065801


Topic: TINNITUS: Ringing Between The Ears; Vestibular, Balance, Hearing with compiled links


---


http://www.ata.org


THE AMERICAN TINNITUS ASSOCIATION


-

---

Posts: 48021 | From Tree House | Registered: Jul 2007 | IP: Logged |

swachsler
LymeNet Contributor
Member # 18155


posted

---

I have sometimes wondered if it is actual auditory hallucinations or if it is actually that I'm hearing something indistinct in the background, and my brain is trying to make sense of it by making me think it's something meaningful, like music.

We have a ton of motors going in my home, as there are air filters in every room. They produce a LOT of white noise.

I do also get buzzing and ringing in my ears, which I never had before Lyme/babs, and it often happens when the "music" happens. It happens a lot more since Mepron.

Sometimes I keep hearing the phone ring after it has rung earlier. Also, now that you mention it, I never had that symptom until after we got a new phone w/a particularly horrible, high-pitched ring.

Does this sound like tinnitus?

Is tinnitus more a Lyme thing, a babs thing (or a bart thing, or...)?

I never take aspartame, etc., because I have multiple chemical sensitivity (MCS), so I scrupulously avoid all toxins.

There is saccharin in Mepron, along w/other nasty chemicals that I would normally never go near, so I have no idea what those chemicals are doing to my body.

-Sharon

---

Posts: 223 | From Western Mass. | Registered: Nov 2008 | IP: Logged |

lymemommy
LymeNet Contributor
Member # 12495


posted

---

swachsler,

Last year, right around this time of year, my son, who was 5 at the time, asked me why there was an invisible man walking around in our house flushing toilets.

My first thought, "God please no, not hallucinations too!!" As we had already had a pretty tough time with neuro-psych symptoms with our child.

When we saw the LLMD, she felt that what he was experiencing was hyperacusis, and sure enough, when we really thought about it and paid attention to what was going on when he heard things, there was indeed some distant, barely audible to us, thing happening.

Like neighbors talking accross the street, or our water softener turning on in the basement...

as far as what do people in general hear when they have hallucinations? Well, from my professional experience, it can be pretty much anything. Music, voices, screams, cartoons, tapping, if it can be heard for real, then it can be hallucinated.

Hallucinations can occur through all 5 senses, for example, I worked once with a woman who smelled burning bodies (olfactory), others I worked with felt like bugs were crawling all over their bodies (tactile), some saw people, or cartoons, or vampires, or people trying to climb into their windows (visual, very common, as are auditory), the least common are taste hallucinations, I honestly can't recall working with anyone that (reported) experiencing a taste hallucination.

As far as the psych component goes, hallucinations are only one component of diagnosing schizophrenia or a mood disorder with psychotic features, there are a number of other conditions that are supposed to be met to warrant dx.

As to tinitus, that for me, happens primarily at night, when I'm trying to fall asleep.

Take care,
kp

---

Posts: 394 | From tinton falls nj | Registered: Jul 2007 | IP: Logged |

Keebler
Honored Contributor (25K+ posts)
Member # 12673


posted

---

-

Yes, indeed. Just because others do not hear what someone with hyperacusis does, does not mean the sound is not there.

I can hear truck motors nearly 1/2 mile away if they are idling. But if I ask others, no one hears it. While many have lost some of their hearing, for others, hearing can be so acute that what they think may be hallucinations may, indeed, be someone's TV in the next apartment, house, or down the block.


----------------------


http://www.hyperacusis.net/

HYPERACUSIS NETWORK

==================


And, as if hypercusis was not disabling enough, there is an inner ear disorder that goes farther. This is what eating a carrot sounds like to me:


Superior Canal Dehiscence from ABC news:


http://www.youtube.com/watch?v=f6vAkdGw8T4


SCDS - THE MUSICIAN WHO HEARD TOO MUCH

- 9 min. video


====================


http://abcnews.go.com/Health/story?id=4436348&page=1


EAR-INDUCED TORTURE: MADDENING NOISE, EVERYWHERE


Adrian McLeish's Rare Condition Led to Amplified Sounds Produced From Eye Movement, Chewing and More

By ALEXA DANNER - March 12, 2008


Imagine if every sound you heard reverberated right through your brain. . . amplified and distorted, echoing through [his] skull. . . The sound of his own chewing was maddening.


. . .McLeish described the reverberations of his voice as sounding like a cracked loudspeaker or "like somebody humming through a kazoo."


- FULL ARTICLE AT LINK.


-

---

Posts: 48021 | From Tree House | Registered: Jul 2007 | IP: Logged |

missy
LymeNet Contributor
Member # 694


posted

---

I hear music, country music. We have a large tower for a country music station very near our house. When I was at my worst, numerous times the music I heard, was the music that was playing when I turned the radio on to that station. I swear that is the truth! Any ideas how that could happen? Has anyone else experienced this?

---

Posts: 101 | From MS | Registered: Feb 2001 | IP: Logged |

Keebler
Honored Contributor (25K+ posts)
Member # 12673


posted

---

-

Radio signals travel through the air. Especially for folks who have elevated heavy metals, we can sometimes actually become our own receivers.


As in the video above about SCD, any variances in the inner ear bone can also increase the tendency to receive vibrations.

Sound is simply vibration. I also think that inflammation of the brain can result in patterns of those vibrations being more evident - and, as with hyperacusis or migraines, even painful.


-

---

Posts: 48021 | From Tree House | Registered: Jul 2007 | IP: Logged |

Janice70
LymeNet Contributor
Member # 16319


posted

---

Is this scary when it happens? It sounds terrifying to me.

---

Posts: 311 | From CA | Registered: Jul 2008 | IP: Logged |

swachsler
LymeNet Contributor
Member # 18155


posted

---

For me, it's not scary, which is why I think folks are right that it's not really hallucinations, it's tinnitus and hyperacusis.

In fact, when it started, my thought was, "I'm hearing the radio without it being turned on."

But when I did finally tell one of my friends that this was happening, hearing music, and that I didn't know why, she said, "Do you think you're hallucinating?"

And I couldn't come up with a better explanation (I hear stuff that others don't...), so I went with it.

But it's not scary, it's just very, very annoying.

-Sharon
P.S. Keebler, what's SCD?

---

Posts: 223 | From Western Mass. | Registered: Nov 2008 | IP: Logged |

Melodymaker
LymeNet Contributor
Member # 16434


posted

---

Lymemommy, although more than hallucinations may be required for a diagnosis of mind disorders, unfortunately there are many bad doctors out there who jump to diagnosis.

As we all know from experience, although there are some very good doctors, there are also many who simply want to get you diagnosed and move on.

I agree with Keebler that using the word hallucinations could be detrimental.

I am very impressed with the knowledge you all have. The mind is a powerful thing, and understanding what is going on with Lyme makes it much easier to deal with.

I have just noticed an increase in the effect of treatment on my brain. After the rocephin IVs we started doxy. (hubby and I both have Lyme)

We noticed pretty quickly that we were irritable and short tempered. Not our normal nature, so we are managing that with deep breaths and concious effort for patience and understanding.

Now after 4-5 months the brain effects for me seem to be intensifying. No super hearing yet, but it's good to know about in case it starts happening.

Many thanks for the info!!

--------------------
Wishing You Showers Of Blessings!
Lyme since Fall 1983 = Diagnosed Summer 2008
IV Rocephin 7 weeks Stopped due to drug fever
Now doxycycline
"For I know the plans I have for you...plans to give you hope and a future." Jeremiah 29:11


---

Posts: 430 | From Sunny South | Registered: Jul 2008 | IP: Logged |

gusgus260
LymeNet Contributor
Member # 2120


posted

---

Hi swachsler - my ears have a constant high pitch ringing since I first got Lyme 10/81. It gets louder when I feeling bad. From time to time I become sensitive to any loud noise, to the point of bad physical pain. When the Cicadas start early in the evenings, at times I have to cover my ears and run into the house.

For the past three or four years, when all is quiet in the house, I hear a soft sound like a TV is on in the next room, but with the door closed. I can't make out any words, but I can just hardly hear it.

Gus

---

Posts: 175 | From Venice, FL USA | Registered: Feb 2002 | IP: Logged |

Hoosiers51
Frequent Contributor (1K+ posts)
Member # 15759


posted

---

Music used to be a common one for me. Sometimes I would think a garage band was praticing somewhere in my neighborhood, because it would be very sporadic, the sounds.....drums, and everything else, but when I went outside, the song would be gone!

A lot of times though I would hear muffled voices speaking to each other. I could never make out what they were saying, but I could tell the tone, and sort of get the "gist" of the conversation. Like I could tell if it was jovial, worried, or just sort of bored. Usually you tell those things by the pitch and how quickly and deliberately the person was talking, but like I said, couldn't make out words.

This would always happen at night, when I was laying in bed. I think it had to be sort of quiet for me to hear this stuff.

I only have it now like once or twice a year. Used to have it every night for awhile, for like an hour as I laid in bed, waiting to fall asleep.

It took me awhile to figure out they were not real though. One day I finally said to my mom, "What the heck do you and Dad stay up so late talking about every night?!?!?"

But it didn't take me long to figure out the music wasn't real.

---

Posts: 4590 | From Midwest | Registered: Jun 2008 | IP: Logged |
Contact Us | LymeNet home page | Privacy Statement

Powered by UBB.classic™ 6.7.3

---
The Lyme Disease Network is a non-profit organization funded by individual donations. If you would like to support the Network and the LymeNet system of Web services, please send your donations to:
The Lyme Disease Network of New Jersey
907 Pebble Creek Court, Pennington, NJ 08534 USA
http://www.lymenet.org/
---
Home | Flash Discussion | Support Groups | On-Line Library
Legal Resources | Medical Abstracts | Newsletter | Books
Pictures | Site Search | Links | Help/Questions
About LymeNet | Contact Us
---
© 1993-2020 The Lyme Disease Network of New Jersey, Inc.
All Rights Reserved.
Use of the LymeNet Site is subject to Terms and Conditions.
---