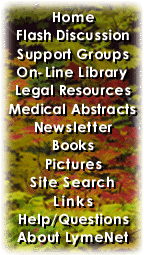 ---
LymeNet on Facebook
LymeNet on Twitter
---
---
The Lyme Disease Network receives a commission from Amazon.com for each purchase originating from this site.
When purchasing from Amazon.com, please
click here first.

Thank you.




Dedicated to the Bachmann Family


LymeNet needs your help:
LymeNet 2020 fund drive

The Lyme Disease Network is a non-profit organization funded by individual donations.

| | |
| --- | --- |
| | |
Author
Topic: Mixed emotions going home for Christmas

penguingirl
Frequent Contributor (1K+ posts)
Member # 28688


posted

---

I always look forward to going home for the holidays - however I'm somewhat depressed about knowing that:

1) I won't be able to eat what everyone else is eating - my mom's cooking is amazing.. she cooks from the heart and everything is so tasty. She teaches cooking lessons so she can make anything!

Anyway she will be helpful in making alternate meals for me so for that I am very thankful. I look forward to learning new tricks for making good gluten-free meals.

2) I won't be energetic to play with my nieces and nephew

3) I won't be able to go ice skating

But what worries me MOST (cuz I'm used to not being able to eat everything by now) is my insensitive bro-in-law neurologist. He doesn't even believe in acupuncture - so you can imagine how thick-headed he already is.. oh and yes, this summer he told me all I needed was a steroid shot to alleviate my neck pain.. nice! Good thing I didn't listen to him!

I posted awhile ago about him... anyway I will have to HIDE all my meds/supplements for fear he will mock me about overdoing with drugs.

I know this is being paranoid - but I am going to black out the name of my LLMD on the prescription bottles so he can't do her any harm.

But I want to be open about how I am doing/feeling. I know my sister is brain-washed because when I talked to her on the phone during Thanksgiving, she was commenting that he deals with lyme patients all day long.

Really. Well poor them - they are probably not better.

And then she was mentioning about a friend who just passed away from ALS recently. I said that was awful etc and she said, yes, now THAT is the horrible disease to have..

Now I'm sure she didn't mean to belittle lyme, but for a second I was like ok, yes I agree I know that ALS is horrible and I'm not trying to one up the I have the worse disease game by any means..

but from what I have learned on here and Under Our Skin, is that some of the ALS patients actually had lyme.

so I tried to educate her that so many misdiagnosed patients with MS or ALS actually had lyme and have a chance in life if they actually find the right doc. I dont' know if she registered that because she just changed the subject.

Anyway this process of being frustrated with ignorance is still new to me as I was only recently diagnosed.

I'm sure I will be desensitized to it sooner than later.

But this will be my first Christmas with everyone and have some bittersweet emotions about it.

I love my family - they mean well. I also don't want this to be all focused on lyme too - want to feel as "normal" as possible around them.. so maybe the ignorance will work out in my favor.

As long as they don't open their mouth and make stupid comments! Just talk about other subjects!

Agree?

--------------------



---

Posts: 1204 | From USA | Registered: Oct 2010 | IP: Logged |

Lymetoo
Moderator
Member # 743


posted

---

Yuck... just hang in there and TRY to keep your cool while maintaining your "stance."

I agree.. I would black out the LLMD's name too!!

I think your mom will be really helpful when it comes to food. Gather some recipes for her if you are up to it.

Good luck!

--------------------
--Lymetutu--
Opinions, not medical advice!


---

Posts: 94583 | From Texas | Registered: Feb 2001 | IP: Logged |

steve1906
Frequent Contributor (1K+ posts)
Member # 16206


posted

---

Hi penguingirl, I see you're from Boston also, it's getting so cold!

If I were you I would go home for the hoidays but...

If it was me I would not mention lyme disease. You have to many doc's in your family, and we all know how they think.

Just remember, you're not along, I and many others can't bring up that 4-letter word around family - LYME!!!

Go home and have a wonderful holiday, and don't think about the bugs...

--------------------
Everything I say is just my opinion!


---

Posts: 3529 | From Massachusetts Boston Area | Registered: Jul 2008 | IP: Logged |

deerose
LymeNet Contributor
Member # 27484


posted

---

I definitely do not think you are paranoid to balck out your docs Rx.

and I would not engage any of them on your health matters given what you describe.

Just shut it down but if they bring it up-- just thank them for their interest in your wellbeing (whether they say that or not) and affirm you trust your healthcare. Repeat as often as necessary.

If they appear not to listen just repaeat and excuse yourself.

the facts are you don't need to explain anything to people whose minds are set and determined that they know it all or are right.

I would not initiate anything on the topic or try to educate them at this point. Not from the sounds of it.

Maybe down the road...maybe.
Just get through the holidays pleasantly.
it will be challenging enough.

Remember that stress is not good for recovery and you really can reduce it by staying out of this.

I would also not get drawn into the dialogues about it from them either ---

and change the subject or excuse yourself to another room.

To the bathroom if necessary.
that is my standard escape strategy from unwelcome situations...excuse to the facilities.

This will test your mettle at dealing with family but hey these tickborne illnesses become an education in life.

happy holidays..your mom sounds like a peach making special for you...that's love.
Just remember that...the love.

--------------------
Not everything in life that can be counted counts and not every thing that counts can be counted...Albert Einstein


---

Posts: 208 | From Northeast | Registered: Aug 2010 | IP: Logged |

penguingirl
Frequent Contributor (1K+ posts)
Member # 28688


posted

---

You know what is sad - it is mainly my sister and her husband that are the ignorant fools.

My parents, my brothers and my brother's wife have been supportive so far and curious to see how I have been doing.

Honestly if my sister and husband didn't come home for the holidays I would feel sooo much less anxiety.

Even when I was healthy - the way they treated my parents' house like a hotel - strewing bath towels all over the bathroom floor, not helping do the dishes, letting their kids scream like terros around the house.. all that made me have growing disgust..

Funny thing is the first time I mentioned my symptoms, my BIL immediately said "lyme disease."
He got that right.. but of course back then I didn't know about needing to seek out LLMDs, etc so when my rheumie said it prob is not, my BIL immediately took back his opinion.

I really want my family to see Under Our Skin just so they just know the true stories out there.. really it was just to tell my family minus the sister and BIL because the sheer thought of mocking reactions from them would anger me..

The sad thing is that I feel like I can talk about it without stress to the rest of my family.

And my sister in law is a very holistic alternative medicine cool chick who knows tons of people who rife and herbs, etc. She could truly be a good resource. She even said, just email me any herbs you need and I can bring them to you for Christmas. She doesn't believe in antibiotics but she never made any judegemental comments because she knows it's not her place.. of course if I ASK her if she would do it, she prob would be one of those people who prefer not to.. which is totally fine.

Anyway if I get the urge to want to talk about it, it will only be with the cool people in my family. And prob in smaller one on one settings.

But I aim not to really make this a topic of discussion.

But what will I say if my jerk BIL says, why can't you have some dessert? Why are you not eating carbs.

If I mention yeast he will prob laugh.

Steve - yes from what I see on the news it is freezing in Boston! I have not been outside since Monday when I went to see my LLMD!

Yes Deerose - going to the bathroom is a good excuse! I already do that all the time now - so it will be for real!

I really just want my mommy and daddy.. they are avid yogis so maybe I can do some relaxing breaths with them to chill out.

--------------------



---

Posts: 1204 | From USA | Registered: Oct 2010 | IP: Logged |

sixgoofykids
Moderator
Member # 11141


posted

---

Go, and avoid any conversation with them about your disease. You can talk privately to those who want to talk about it. If your BIL asks why you aren't having dessert, just say you don't want any. Be discreet about not taking any.

I don't really care much for sweets, so it's not uncommon for me to not have dessert (I'm not in treatment, so I *can* have it, but most of the time I do not). Not everyone wants dessert.

If he asks why you're eating how you are, just say, "I'm trying to eat healthy." If he starts telling you other ways to eat, just say "Okay, thanks for the information."

Whatever you do, don't engage in conversations on how you feel, that you're on meds, your diet, etc. Just don't.

If they ask why you don't participate, just say you're tired. If they ask if you're tired all the time, just say yes. No need to go into detail with people who don't care.

Avoid them somewhat, and be with the people you enjoy being with.

--------------------
sixgoofykids.blogspot.com


---

Posts: 13449 | From Ohio | Registered: Feb 2007 | IP: Logged |

Keebler
Honored Contributor (25K+ posts)
Member # 12673


posted

---

-
As you have lots of vestibular symptoms. In passing, if you feel you have to explain anything, just go with the "vertigo factor" for why you might need advance warning for flashes or need to rest - or avoid certain foods. Those with inner ear disorders are told to avoid: gluten, dairy, corn (and maybe soy).

MSG and artificial sweeteners are also off the menu.

Those with vestibular conditions are also sensitive to scents, by the way. You don't have to get into MCS or lyme.

You are in control. If someone poses a question, criticism or snide remark, you have control over what you say.

But, a warning. Stop. Breathe. Wait. Too often a swear word has flown out of my mouth out of mere frustration. I used to work around people with foul mouths, some of my neighbor's cussing streaks were so frequent that I seemed to have picked that up, too. So, just stop. breathe. think. and then if you don't want to talk about something just say:

"that's all pretty complex. I'm best now with light conversation about interesting stuff that's going on around here (or in the world)."

PLAN in advance and practice out loud. We should have a SYKE session - hell, a whole class - on how to manage stressful conversations during the holidays.

I know I could never hold my own with a neurologist sitting across from me. My own father died never really having come to understand my health matters. Siblings never ask. But I never see them, so it's easier.

Good luck. Keep it simple and sweet for yourself. Know that you are a good person in a twilight zone just doing the best you can. Take care.

=================

As your mom is a good cook: ask her if she could make you a gluten-free pumpkin custard. Or maybe for everyone. You can also get Pamela's Gluten-Free shortbread cookies to serve with the pumpkin custard. They are excellent and give that crust crunch and consistency.

As for turkey, ask your mom to select one that is not loaded with MSG or other additives. Many natural foods markets have others but they are much more expensive.

For vegetable casseroles, see if you can get the fresh veggies on the side.

For cranberry sauce, you can make your own so easily. With very little water, fresh berries and stevia. Others will not likely like stevia but you can make a little bit for yourself and just blend in. Stay low key, don't announce anything, just quietly do what you need to do and, if asked by others, say you have some dietary changes, "no big deal"

Pamela's Gluten-Free Gingerbread cookies are also an option. All her stuff has a lot of sugar, though, so beware.

Take some 85% DARK chocolate for yourself. Green & Blacks Organic is best. But it should be 85%, no lower. It will help your mood. One ounce is about all you will want. That would have about 6 grams of sugar. If eaten AFTER a meal or with nuts, it will have less impact.

Take teas that you like, etc. Plan to take care of yourself. Also plan to see and feel love where you can and put up your teflon shield otherwise.

If you feel a question coming at you, divert the conversation. Again, PRACTICE this with a few friends before you go home. This is not to start a war but just to shift the conversation to neutral, fun, interesting or enlightening avenues.
-

---

Posts: 48021 | From Tree House | Registered: Jul 2007 | IP: Logged |

penguingirl
Frequent Contributor (1K+ posts)
Member # 28688


posted

---

Sounds like a plan - thanks everyone for your suggestions!

Thankfully my mom doesn't use any commercial cleaning products - she just uses murphy's oil soap and water/vinegar that she makes bottles up on her own.. and she doesn't wear any perfume.

I feel bad because I always help out a lot for my mom's cooking, cleaning, decorating trees, and this year I know that I won't be at the full capacity as last year.

I like to help out and feel sad that I know some people (BIL) won't step it up as much as they should - cuz they just like to hide behind their kids and use that as an excuse.

--------------------



---

Posts: 1204 | From USA | Registered: Oct 2010 | IP: Logged |

Keebler
Honored Contributor (25K+ posts)
Member # 12673


posted

---

-
As for your time with the kids. Not sure of their ages but if old enough, can you ask them to cuddle up with you and hear THEIR favorite stories.

Ask them all kinds of questions or to dream up how they'd do this or that. Get THEM talking to you - or draw a picture for you, etc.

They will still get some quality one-on-one time with you. It's okay for you to tell them that you are dizzy and have to lie down (and maybe even close your eyes) but that you are listening. Or that you will do so later - and then do follow up.

They will understand "dizzy" - or "tummy ache" - by your adjusting your environment to make conversation work best for you, it teaches them how to do so for themselves.

You should try to find out in advance if the kids will be getting or bringing any loud toys. Hope not.
-

[ 12-11-2010, 04:50 PM: Message edited by: Keebler ]

---

Posts: 48021 | From Tree House | Registered: Jul 2007 | IP: Logged |

penguingirl
Frequent Contributor (1K+ posts)
Member # 28688


posted

---

Keebler - my nephew is almost 8 and my nieces are 5 and 2. They are a handful but fun to play with.

Yes I will see if they can draw for me : )

One thing I love doing in a quiet setting are puzzles. I get lost in it and time just flies by.

I have an unfinished huge penguin puzzle at home so maybe I will just hide out and work on that - and maybe the kids can help me with it too.

The adults could care less about doing puzzles so this will be a good tactic to leave me alone!

Not trying to be anti-social but you know - it will be a good excuse to leave awkward conversations - "sorry, gotta work on my puzzle!"

The kids prefer to read books or draw so luckily nothing noisy. But they do SCREAM when they get into tantrums so go figure.

And they love watching DVDs so we can do that together too.

I am worried for my nephew who had an awful case of the flu this summer - while they were spending time at their weekend house in the Catskills, where deer love to hang out in their backyard. I reaaaaally hope he didn't get bit by a tick..

Of course if I even bother suggesting his father (my BIL) to have him checked out by a LLMD, he will bark at me.

I am just crossing fingers because people still do get the flu of course, and it's just the flu.
But since he and his little sister (age 5) love to play out in the yard a LOT and roll around the bushes and stuff, it's not impossible for them to get bit.

I did send a link from here to my sister to urge them to spray their clothes with permethin (sp?) and skin with DEET so that they can do as much tick prevention but no response from her- only the rest of my family were thankful for the info.

--------------------



---

Posts: 1204 | From USA | Registered: Oct 2010 | IP: Logged |

linky123
Frequent Contributor (1K+ posts)
Member # 19974


posted

---

Take what YOU like and leave the rest. Engage with the family members you trust and relate to. Be polite with the others, but you don't owe them any explanations. Your meds are your business, not theirs.

I think even those without lyme experience this kind of stuff - having to tolerate obnoxious relatives just because they are family and it's the holidays. I always wondered what gives them the right to make us miserable just because they are family.

--------------------
'Come to me, all you who are weary and burdened, and I will give you rest.' Matthew 11:28


---

Posts: 2607 | From Hooterville | Registered: Apr 2009 | IP: Logged |

just don
Frequent Contributor (1K+ posts)
Member # 1129


posted

---

I was told here once,,,long time ago,,,there is no such thing as the regular flu in the middle of the summer.

But did read of that H1N1 flu later than I thought should be every spring.

--------------------
just don


---

Posts: 4548 | From Middle of midwest | Registered: May 2001 | IP: Logged |

17hens
Frequent Contributor (1K+ posts)
Member # 23747


posted

---

penguingirl,

have you ever read this one?
http://butyoudontlooksick.com/navigation/BYDLS-TheSpoonTheory.pdf

When people ask me how I'm doing and for one reason or another I don't want to explain the details, I just say, "been better, been worse."

It's true and it's brief. I guess it lets them know I'm done talking about it too.

--------------------
"My flesh and my heart may fail, but God is the strength of my heart and my portion forever." Psalms 73:26

bit 4/09, diagnosed 1/10


---

Posts: 3043 | From PA | Registered: Dec 2009 | IP: Logged |

penguingirl
Frequent Contributor (1K+ posts)
Member # 28688


posted

---

17hens - great story -
I have heard of the "spoons" reference from a friend who has chronic lyme but I never read this story so now it makes complete sense to me.

Thanks for sharing!

My mom is too cute - she is busy thinking of dishes that can be used for me/rest of my family but substituting stevia for sugar and almond flour for flour, etc..

And she just emailed me tonight saying I bought you some Epsom Salts and Braggs apple cider vinegar and a bottle of Stevia.

She was trying to look for her Moosewood cookbook but couldn't locate it but has other good vegetarian cookbooks too plus a plethora of great cookbooks such as Alice Waters cookbooks, etc. She has at least 200 cookbooks. Easily.

--------------------



---

Posts: 1204 | From USA | Registered: Oct 2010 | IP: Logged |

linky123
Frequent Contributor (1K+ posts)
Member # 19974


posted

---

Your Mom sounds like an real angel. God bless her.

--------------------
'Come to me, all you who are weary and burdened, and I will give you rest.' Matthew 11:28


---

Posts: 2607 | From Hooterville | Registered: Apr 2009 | IP: Logged |
Contact Us | LymeNet home page | Privacy Statement

Powered by UBB.classic™ 6.7.3

---
The Lyme Disease Network is a non-profit organization funded by individual donations. If you would like to support the Network and the LymeNet system of Web services, please send your donations to:
The Lyme Disease Network of New Jersey
907 Pebble Creek Court, Pennington, NJ 08534 USA
http://www.lymenet.org/
---
Home | Flash Discussion | Support Groups | On-Line Library
Legal Resources | Medical Abstracts | Newsletter | Books
Pictures | Site Search | Links | Help/Questions
About LymeNet | Contact Us
---
© 1993-2020 The Lyme Disease Network of New Jersey, Inc.
All Rights Reserved.
Use of the LymeNet Site is subject to Terms and Conditions.
---