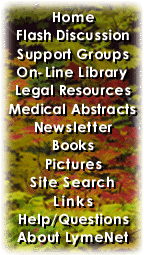 ---
LymeNet on Facebook
LymeNet on Twitter
---
---
The Lyme Disease Network receives a commission from Amazon.com for each purchase originating from this site.
When purchasing from Amazon.com, please
click here first.

Thank you.




Dedicated to the Bachmann Family


LymeNet needs your help:
LymeNet 2020 fund drive

The Lyme Disease Network is a non-profit organization funded by individual donations.

| | |
| --- | --- |
| | |
Author
Topic: Dr. Jones?

sizzled
Frequent Contributor (1K+ posts)
Member # 1357


posted

---

How did the Tuesday decision go??

---

Posts: 4258 | From over there | Registered: Jul 2001 | IP: Logged |

bettyg
Unregistered



posted

---

boy, this info was NOT on the boards at all!

---

IP: Logged |

lymedesign
LymeNet Contributor
Member # 8791


posted

---

Their office called today to confirm our Wednesday Appt.!!

---

Posts: 263 | From Georgia | Registered: Feb 2006 | IP: Logged |

Areneli
Frequent Contributor (1K+ posts)
Member # 6740


posted

---

Any news?

---

Posts: 1538 | From Planet Earth | Registered: Jan 2005 | IP: Logged |

Soleilpie
LymeNet Contributor
Member # 8481


posted

---

Panel: Lyme Disease Doctor Should Be Reprimanded

--------------------
The best index to a person's character is how he treats people who can't do him any good, and how he treats people who can't fight back.
-Abigail van Buren (Pauline Esther Friedman) (1918-2002)


---

Posts: 409 | From Florida | Registered: Dec 2005 | IP: Logged |

map1131
Frequent Contributor (5K+ posts)
Member # 2022


posted

---

This breaks my heart. I feel like as a group we are being beat down doctor by doctor. What are we going to do? A very large and powerful group are making us and the children out to be crazies?

I feel so defeated right now.

Pam

--------------------
"Never, never, never, never, never give up" Winston Churchill


---

Posts: 6454 | From Louisville, Ky | Registered: Jan 2002 | IP: Logged |

bettyg
Unregistered



posted

---

can't read replies on site so copying them here; i'll edit anything i need to LATER; leaving shortly for day!


Panel: Lyme Disease Doctor Should Be Reprimanded

By WILLIAM HATHAWAY | Courant Staff Writer


7:41 PM EST, November 29, 2007

In a decision with national implications for how suspected cases of Lyme Disease are treated, a state physician review panel is recommending that controversial pediatrician Charles Ray Jones be reprimanded and put on two years' probation for his diagnosis and treatment of two Nevada children.

If the panel's recommendation is upheld next month, the New Haven area pediatrician -- who gained support across the nation because of his willingness to ignore consensus treatment guidelines and prescribe long-term antibiotics to children suffering symptoms of Lyme -- would also have to pay a $10,000 fine and pay a doctor to review records of his patients.


The decision, in criticizing Jones, could have broad implications. It calls into question the medical validity of treating patients who show symptoms of Lyme Disease -- such as aching joints and fatigue -- but don't meet the criteria established by mainstream doctors.

Advocates for patients who say they have chronic Lyme Disease argue those criteria are too narrow and lead to needless suffering.


But the panel from the Connecticut Medical Examining Board upheld most, though not all, of the state health department's allegations about Jones' diagnosis and treatment of two Nevada children in 2004 and 2005, which came into question during a bitter custody dispute.


Jones prescribed antibiotics to the son of Jeffrey and Robin Sparks and told the boy's school principal that he had diagnosed late-stage Lyme Disease without ever having seen the boy, the panel found.

Jones also prescribed antibiotics to the Sparks' daughter before examining her.

When Jones finally did see the Sparks' children, he persisted in his diagnosis of Lyme Disease for children without compelling medical evidence to support his diagnosis, the three-member panel found.

"The respondent diagnosed a disease when the exposure risk was extremely low, medical history was non-specific, the signs and symptoms were non-specific, and the laboratory tests were negative,'' the panel found.


Jones defended his actions, saying he has successfully treated thousands of patients suffering from Lyme Disease.

The panel's finding, which will be reviewed next month by the full board, goes to the heart of bitter feud over Lyme Disease.


The majority of medical experts say there is little evidence to support the idea that Lyme Disease, if treated properly, will nonetheless continue to cause ongoing symptoms, a view that has been bolstered by the treatment guidelines issued by two medical associations for the disease
.

There is no good evidence, these doctors say, that extended courses of antibiotics have long-term benefits for patients suffering from Lyme-like symptoms. And symptoms experienced by these patients are more likely attributable to causes other than a lingering infection from the tick-borne pathogen.


But advocates for Lyme patients insist there is abundant evidence that the bacterium which causes Lyme can persist for years, even after initial antibiotic treatment and often eludes detection by existing tests.


They believe that thousands suffer needlessly because their doctors do not recognize clinical signs of Lyme and refuse to prescribe long courses of antibiotics.

Members of the so-called long-term Lyme camp crowded Jones' hearings, which lasted more than a year, in support of the doctor. They raised money to aid in his defense.


"Dr. Jones is being charged with improperly diagnosing and treating Lyme Disease after having treated and cured two children whose health was of great concern to their mother for years,'' said Jones' attorney, Elliot Pollack. "Instead of being sanctioned, he should be complimented.''

Jones treated three of Maggie Shaw's children for Lyme Disease and all got better, the Newtown mother said.

"My concern is not only for my kids, but how will this effect treatment for all children,'' Shaw said.On the other side of the divide, the decision was well-received by the doctors who argue that treating patients with Lyme-like symptoms with long-term antibiotics is not only misguided, but can lead to a failure to properly diagnose other ailments in those patients.

"This decision sends a message to very small cadre of physicians who do not conform to standards of care for diagnosing and treating Lyme Disease,'' said Dr. Lawrence Zemel, chief of rheumatology at Connecticut Children's Medical Center and professor of medicine at the University of Connecticut School of Medicine.


That view was bolstered by a recent review in the New England Journal of Medicine.


In addition to the fines and probation, the panel is recommending Jones hire a doctor to review his treatment regimens quarterly while he is on probation. Future misconduct could lead to a suspension of his license.


The full board is scheduled to review the findings on Dec. 18. They can confirm, reject or modify the findings of the panel .

REPLIES 1 OF 25

Benchly
Middle Haddam, CT
|#1 17 hrs ago

I know many with Lyme Disease. I don't have it.

There is fraud in the medical treatment and testing for Lyme. The science and credible witnesses bear it out. Who is getting rich and insurance companies aren't paying out the big bucks for treatments that actually work. Caring doctors that do the right thing face losing their license to practice incomes and their financial security actually caring for patients.

For understanding the numbers and the basic fraud in testing and treatment of Lyme, you may find this video helpful:

http://www.youtube.com/watch...


Lyme in CT
Marlborough, MA
|#2 17 hrs ago

I hope that this gives attention to the disease and for those of us who suffer from symptoms of this disease many years later. I have always felt that if the medical community is convinced of their findings, please administer a dose of Lyme Disease and treat. Since you believe it will be cured, what do you have to lose?

How about failing vision, constant aching, stiff joints, & lose of memory. Not being able to stand, sit or lie in any position for any duration.

Maybe they would enjoy prying themselves out of bed with an aching back, heading down the stairs when each step hurts more than the one before.
Shame on you for not acknowledging the pain of these suffering and sending us home to vitamins and Advil. Somehow, I think you doctors would not stand for it!


Malpractice?
swnews
Joined: Apr 29, 2007
Comments: 30
South Windsor, CT
|#3 17 hrs ago

A message to those Doctors who claim there is no such thing as chronic Lyme disease: PUT UP OR SHUT UP.

Either find a treatment that WORKS for those suffering from long-term Lyme symptoms, or leave alone those who are willing to step up and help those patients.

By targeting those who are willing to help Lyme patients, you show a complete absence of the most basic human decency.

Your arrogance is clear, your hypocrisy breathtaking.


LymeandMS
Branford, CT
|#4 17 hrs ago

Today is a very sad day for the few great doctors trying to make a small difference.

In the end, it is all about money.

Most doctors and the drug companies want to 'treat' but not 'cure'.


Nonsense
Stamford, CT
|#5 16 hrs ago

This doctor who is going against the norm for treatment of lyme disease is getting a harsher punishment than the doctor who abused children and kept all that child pornography.

Medical review boards are a joke.

http://www.topix.net/forum/source/hartford-co...


rickbee
Bloomfield, CT
|#6 15 hrs ago

LymeandMS wrote:
Today is a very sad day for the few great doctors trying to make a small difference.
In the end, it is all about money.
Most doctors and the drug companies want to 'treat' but not 'cure'.
The few good doctors gave the rest a bad name!


Tracy9
Eastford, CT
|#7 14 hrs ago

My 18 year old son was diagnosed with Lyme disease at age 13. After the "standard treatment", he was still never the same.

It was like the symptoms never went away, and his grades went down to D's and F's, he was always tired, achey, not social, depressed....after a year or so I brought him to Dr. Zemel, having heard that Lyme disease can linger.

Dr. Zemel did a spinal tap, and finding only one band, said it was not Lyme Disease.

Here we are now four years later, and my son is failing in school, depressed, exhausted, in pain....and now we are trying to get him into Dr. Jones..

We believe, after doing exhaustive research and consulting with Lyme experts, that our son DOES in fact have chronic lyme disease and most likely Babesia as well.

Dr. Zemel, in my opinion, stole four years of my son's life...his teenage years. Had he made the appropriate diagnosis, and put my son on long term antibiotics, he would now be a high school graduate, and productive member of society rather than a failing, exhausted boy with low self esteem and no hope.

Thanks Dr. Zemel, for nothing. How many other children's lives have you ruined??????


Sherrill Franklin
Newark, DE
#8 14 hrs ago

It's hard to believe that opponents of Dr. Jones are complaining about his successful treatment of the children mentioned in the article. If antibiotics resolved the illness, what is the difficulty?

The maddening non-specific nature of Lyme is what makes it so elusive and so dangerous. There are so many unknowns. Isn't it reasonable to err on the side of treating?

We all need to be reminded that the Lyme bacterium is a second cousin to the syphilis spirochete. It is as inhumane to ignore the possibility of Lyme now as it was for medical institutions to refuse to treat syphilis sufferers in the ghastly Tuskegee experiments of the 1930s.


tigran
New Haven, CT
|#9 13 hrs ago
You can't argue with true believers.


Lymeblue
|#10 13 hrs ago

To: Those who don't believe in Chronic Lyme
From: A family stricken with Cronic Lyme.
What goes around comes around.
Everyday we, chronic Lyme sufferers, grow EXPONENTIALLY wether you like it or not. We are here ,we are not going away.


R Krop
|#11 13 hrs ago

At this point, I just about consider Lyme disease and coinfections to be a modern-day Tuskagee experiment on the entire world. These diseases are spreading everywhere, affecting both people and animals, yet medical establishments are not taking them seriously.

Lyme and coinfections do not always test well, yet people have clinical manifestations of the diseases and should not be refused treatment. Those refused treatment remain sick and many die.

The refusal by infectious disease doctors associated with the IDSA and neurologists associated with the AAN to recognize these diseases is unacceptable

when what we are dealing with are infectious diseases that target the nervous system and disable anyone unlucky enough to be exposed to these diseases, which at this point is all of us.

I don't think any of these doctors in the IDSA and AAN would be willing to go through the experience of exposing themselves to these diseases and leaving themselves untreated. I haven't heard of that medical experiment. Yet that is what they're asking the public to do.

Dr Jones has dedicated his life to the treatment of kids for Lyme and coinfections. His recognition and treatment of these diseases is in line with ILADS guidelines, a perfectly fine group of medical professionals who understand the symptoms of these diseases and treat them. Dr Jones is a hero of our time.

We will not be silent!

America and the world deserve better! Better tests, better treatments, better access to healthcare, better education, better protection, and ultimately to figure out how to eradicate the threat of these spreading diseases to the survival of everyone and everything on this planet.

This is not a light issue. It is central to our future survival. Dr Jones has done his fair share. Let him be!


tangye5
United States
|#12 11 hrs ago

Having suffered for 12 years with needless illnesses and a brain rupture and finally diagnosed with two types of Borrelia and Babesia WA1 by IGENEX Lab and treated with long term IV therapy, I am out of the wheelchair and have my brain functioning at a normal level.

To have lived as an ALS patient was hell and I thank the Lyme Literate doctors for their much needed medical advise. When the antibiotics are stopped I revert back to a non functional human being. What do the nay sayers have to say about this?


Laura Eisler
Scarsdale, NY
|#13 11 hrs ago

The IDSA tells Lyme patients: "We don't care if antibiotics improve or cure your condition. Your reality does not conform to our theory. So suffer."

One has to wonder why the IDSA is so vehement in its position against the treatment of Lyme with long-term antibiotics. It claims that it is so very concerned about the dangers of antibiotic drug resistence.

Yet it it has no problem when some of the same medications used to treat Lyme, a potentially devastating disease, are prescribed to treat acne, a cosmetic condition, for years at a time. Clearly, big money Interests are at work here. This is no longer a medical issue, but one of greed.


Treepatrol
Annville, PA
|#15 5 hrs ago

I feel sorry for Dr Jones and all the children who need hime to treat Lyme disease and other tick borne disease's.


Treepatrol
Annville, PA
|#16 5 hrs ago

Cant argue with true believers. Well if you had this disease, your argument would be on the otherside.tigran


swnews
Joined: Apr 29, 2007
Comments: 30
South Windsor, CT
|#17 5 hrs ago

tigran wrote:
You can't argue with true believers.

TIGRAN:
Go ahead, argue with me.

I'd love to hear what in your expert opinion is causing these symptoms.

People with chronic Lyme symptoms aren't going to shut up and go away just because of some snide comments.\ on an online board.

People with these symptoms already suffer on a daily basis, so they have nothing to lose by pushing the issue with the medical community.

If the medical experts have determined that antibiotics have no value in treating chronic Lyme, how come the CT Attorney General has now opened a criminal investigation against the IDSA - the group that denies that chronic Lyme exists?


Mark Asher
Laurel, MD
|#18 5 hrs ago

This article neglected to mention the fact that most of the views expressed in the NEJM review were refuted in the latest and most controlled study of antibiotic retreatment conducted by Dr. Brian Fallon of Columbia University and published by in the AAN Journal.

The patients in the study had been previously treated with IV anibiotics; yet showed moderate yet statistically significant improvement with re-treatment. These results were also seen in the 2003 study by Krupp.

Unfortunately, the patients were not cured by the retreatment. but until some other mechanism is discovered for the observed antibiotic response, it seems reasonable to assume that persistent infection is present. And this is the paradigm that Jones and other doctors of his ilk follow.

Sara Clarke
New Canaan, CT
|#19 5 hrs ago

If Lyme infection is not detected early and, therefore, treated immediately, persisting, long-term, multi-systemic health problems occur.

I am sick with several autoimmunity deficiencies that occurred after my Lyme infection was supposedly treated in 1993. In my son's case, he was diagnosed with Autism at age 3-1/2.

We lived and worked with that diagnosis, paying hundreds of thousands of dollars in therapy, hoping that he might learn to laugh, learn and love others. When my son was 6-1/2, we met Dr. Jones.

Jones administered a Western Blot: my son had a raging Lyme infection, positive on five bands ("infected" according to the CDC, for whatever it's worth). Dr. Jones prescribed two antibiotics. That was five years ago.

Today, my son is an A student, he plays travel soccer and baseball, he leads a pack of noisy, fun-loving boys. Dr. Jones changed my son's life.

Lyme is a tricky, insidious disease, clearly not well understood by the "experts" who testified against Dr. Jones or the CT State Medical Board members reviewing the complaints against Dr. Jones.

I don't want the State Medical Board, or any supervising doctor, or any Society of doctors (IDSA) involved in or regulating the confines of my private relationship with my physician.

We chose to following the protocol prescribed by Dr. Jones; doing so ended in a complete reversal of my son's Autism and allows him today to Say "Thank you" to his miracle-worker, Dr. Jones, and, in deed, hug him and tell Dr. Jones that he loves him.


DYAVO - Cincinnati
Cincinnati, OH
|#20 4 hrs ago

Lyme Disease patients are successfully treated by pediatrician Charles Ray Jones, M.D. The Nevada?? state physician review panel votes to reprimand the good doctor!

What is wrong here? It is acceptable to the medical establishment and insurance companies to let children suffer and die from a treatable illness using FDA vetted medications.

Imagine if this same attitude was applied to experimental methods to deal with the AIDS. Any resources diverted from that epidemic simply will not be tolerated.

That political agenda might explain the vehemence with which the review panel is attacking the Dr. Jones. There is quite the hatred for "Straights" in the Gay Agenda.


Wro
|#21 2 hrs ago

Board Panel Members and Insurance Companies Workers can catch lyme disease too. When this happens, they will regret their decision and that they have no place to go for treatment. then they will be in situation when no one listens.


Deborah Fan
|#22 2 hrs ago

I am in support of Dr. Jones. I have lyme and have suffered needlessly for 7 years. We need to have more doctors like Dr. Jones.


California_Dr
|#23 2 hrs ago

I am appalled that Dr. Jones, the world's expert on pediatric Lyme, is being harassed and abused by the Connecticut Medical Examining Board. Who will treat the children now?


Julie A
|#24 2 hrs ago

I CRIED after reading this article. My 4-year-old son has been successfully treated for Lyme but it took since his birth to get it done. That's a long time to be on antibiotics on and off, but the alternative, terrible illness, was NOT an option.

He got Lyme when I was bitten on my pregnant belly by a female deer tick. I've been extraordinarily ill since then and I'm just now climbing out of it. It's a dreadful, bizarre disease that robs you of your dreams and hopes. I've lost five years and counting.


flyfish
East Berlin, CT
|#25 1 hr ago

This is insane that they can do this to a guy that has saved 10,000 kids. one question did these kids get better and if they did this is prove enough that treatment worked .

Just another witch hunt........
*********************


Denise Cordes
Hightstown, NJ
|#26 24 min ago

Almost all of the relatively few doctors who treat lyme disease have had the disease themselves.

A "main stream" doctor who gets the disease and has it diagnosed late - when the bacteria have disseminated throughout the body, and have hidden in the tendons or other areas where there is less blood flow - or have entered the cyst form, will become lyme doctors.

I have a hard time wishing this disease on anyone, as I have not been the same since contracting the disease three years ago, but lawyers and judges and panels need to have a few late-diagnosed victims so we can have the advocates and clout we need push for effective diagnostic tests/test standards/ and treatment.

RELIES 26 - 33
***************

Denise Cordes
Hightstown, NJ
|#26 Friday

Almost all of the relatively few doctors who treat lyme disease have had the disease themselves.

A "main stream" doctor who gets the disease and has it diagnosed late - when the bacteria have disseminated throughout the body, and have hidden in the tendons or other areas where there is less blood flow - or have entered the cyst form, will become lyme doctors.

I have a hard time wishing this disease on anyone, as I have not been the same since contracting the disease three years ago, but lawyers and judges and panels need to have a few late-diagnosed victims so we can have the advocates and clout we need push for effective diagnostic tests/test standards/ and treatment.


Gary Simmons
#27 Friday

My wife, our two children and I were diagnosed with Lyme Disease in 1989. We were treated early but because we were under treated it led to an antibiotic resistant super bug which became difficult to treat.

Three highly acclaimed medical labs from across the country found DNA of Borrelia burgdorfi in my spinal fluid after using the medical treatment guidelines at the time, that ALLen STEERED us into long term treatment, YEARS.

I believe treatment decisions are between an educated informed consumer and their personal doctor which should be protected by law.

This disease is little understood and has no room for a cook book approach for treatment. We are each unique individuals with bacteria in the environment that evolves and mutates.

The charges against Dr Jones would have strong implications against long term treatment when we were first diagnosed eighteen years ago.

This will be detrimental to the health of children and adults across the country in a very negative way.

This will cost insurance companies more money in the long run.

I believe the people that need to be investigated are the ones who prosecute treating physicians and patients on the front lines. How many more need to be sick?

Answer is, there will be a time when the ones who prosecute will seek treatment from those whose lives they ruin. It's a turn towards a third world country.


Jill Johnson
|#28 Friday

How sick is she really?

Open Eye Pictures has a documentary "Under Our Skin" coming out very soon that people should really see the trailer for:

http://www.openeyepictures.com/underourskin/i...


I had over 40 inexplainable symptoms that started after my child was born.

Three years later, 12 doctors later and after being diagnosed with everything from Gerd, Rosacea, Fibromyalgia, possible MS, anxiety, arthritis (I was 26 at the time), postpardum depression (though,

by now it had been over a year since my son was born, and I wasn't depressed I was SCARED by the pain, memory loss, loss of coordination, lack of balance, vision problems,

trembling/spasms/twitches/burn ing pain/stabbing pain, etc), sleep apnea, etc, I finally was diagnosed with Chronic Lyme.

It is sad and pitiful to say but this disease isn't about those affected, those in pain, those scared, those sick, those who can no longer walk due to Lyme, those who consider suicide as their only hope living with this disease and those unfortunate souls who have died due to complications of Lyme disease,

it's a political and controversial disease. Our health care system (or lack of), the insurance companies and the IDSA don't care about the people. It's all about greed and arrogance.

Meanwhile, people are very ill. Many are losing their jobs because they are too ill to work, then they are not able to use Lyme in order to get disability, they are losing their health insurance so they can no longer afford their medication or their doctor visits, many have or will lose their house, marriages and families are destroyed...This disease causes destruction from all sides.

There will come a time, though, where those of us who are suffering will be heard loud and clear. When that happens so many will have much to answer for.

Until then, those of us suffering from chronic Lyme disease, our children, our families, our husbands, our parents, our siblings, our friends - we are sick, we are in pain, we are being misdiagnosed, we are disabled, some of us are dying or will die and we are being ignored.


Will CT
Eastford, CT
|#29 Friday

Living in the State of CT you would expect that if you went to the UCONN Health center with pain, sweating, and a big rash on your back- reporting "I think I got bit by a spider" they would test you for Lyme disease.

NO! Seven years and untold problems later a real MD that does research, reads reports, & clinically evaluates patients and tests has been helping me treat Lyme, Babesis and Bartnola.


If all doctors listed to the masses and practiced COOK BOOK medicine or what the drug and insurance companies told them - we would all worse off.

Thanks to pioneers like Dr Jones and others with all diseases that challenge the status quo.


Rolf Taylor LD sufferer
Richmond, IN
|#30 Friday

I think it is important to understand that Dr Jones did not "ignore consensus guidelines" but chose to follow the guidelines of organizations that acknowledge the damage that can be done by a complex infection if left inadequately treated.
Here are some of the guidelines that appears Dr Jones follows in his treatment:

http://www.ilads.org/guidelines.html

http://lymeproject.com/Dr_Cameron/Practice/1G... #


While it is true that many Physicians, after considered study believe that the Guidelines by the Infectious Disease Society of America *should* be ignored, this is quite different than simply ignoring all guidelines on the subject.


Phyllis Mervine - CALDA
Energy, IL
|#31 Friday

We have set up online support groups to help people within each state to come together, share information, and fight injustice.

All are set up the same way with the state name and lyme run together as one word:

http://health.groups.yahoo.com/group/STATENAM...

e.g. newyorklyme, except for 4 states which have a hyphen between the statename and lyme, e.g.
southcarolina-lyme.

Those states are SC, WY, ND, SD.

Join us and let's see what we can do together to preserve the patients' right to choose the standard of care they want to be treated by. Cancer patients can - why not us?


flyfish
East Berlin, CT
|#32 Yesterday
thank you phyllis


LymeandMS
Branford, CT
|#33 Yesterday

I thought a lot about this article today.

While I am still not happy about the outcome, it could have been a lot worse for Dr. Jones.

In my view, the penalty is essentially a slap on the wrist with a $10,000 fine.

The fact that Dr. Jones is being 'disciplined' is a nonevent as the parents of kids with Lyme will continue to seek him out due to his sterling reputation.

If Dr. Jones is anything like my LLMD, I am sure his patient records are in top shape and the additional fishing expedition by the state will yield nothing.

Keep up the good work Dr. Jones.


Bettyg
Newton, IA
1 min ago

I'm a 38 year CHRONIC LYME patient misdiagnosed for 34 years by 40-50 drs/specialists!

WHY did it take 34 years to diagnose me??

WHY couldn't IDSA, infectious disease drs. caught it at the beginning?

It's because I had NO RASH, NO VISIBLE TICK BITE OR EMBEDDED TICK, and NO LYME LITERATE MD IN IOWA!! To date, we have NO FULL-TIME time lyme literate mds in our entire state! We have to travel to other states like the family in question in this story!

I was initially diagnosed with mononucleosis/EPSTEIN BARR VIRUS when I was 21 in Jan. 1970!

How did a tick get to me in the dead of winter in Iowa's SUB-ZERO temps? The tick came OFF my folk's LIVE CHRISTMAS TREE!!

How can ticks get into trees? Deer brush up against them; main carrier are birds who fly up into them, and white-footed mice, squirrels, etc. that crawl up in them. Ticks crawl off animals onto the branches and wait for their next "meal" ... us!

I think it is outragious that it took this board 2 YEARS to conduct 8+ hearings!

When the hearings started, there should have been 2 only: producing evidence, and decision made on evidence!

The State medical board caused a HUGE $$$ to have been raised by us, the CHRONIC LYME PATIENTS/PARENTS of those Dr. Jones treated over the many years he CHOSE to treat lyme children while other drs. BURIED THEIR HEADS IN HE SAND AND WOULD NOT TOUCH THESE LYME CHILDREN!

I personally resent what it's done to Dr. Jones, his staff, and all lyme children/parents:

* the almost $1 million dollars out of his/our pockets;

* the additional stress of losing many things in order to pay for these hearings, and

* the stress that we lyme patients do NOT need as we struggle daily with our lyme treatments!

Recently, Dr. Brian Fallon had a review showing that long-term antibiotics DO make a diference in lyme patience in the New England Journal of Medicine.

Did the Board take this into consideration? NO !! Hog wash!

I also disagree with someone to review EACH of his cases one by one! That EXTRA DR. could be put to use as a LYME LITERATE MD and TREAT more lyme children there!!!

We only have around 12 nationwide LLMDS that will treat children! HOW SAD! Animals are treated better than we humans!

I have NO IDEA who is on the FULL BOARD to decide Dr. Jones fate on Dec. 18, but I'm asking this ... that it be EQUAL in numbers of those who believe in LONG-TERM vs. short-term antibiotics, and most IMPORTANTLY, that HALF of the board members have a direct family member with CHRONIC LYME!

Only if YOU can walk totally in our shoes, can you understand and have an intelligent discussion with us!

Remember FOOTPRINTS IN THE SAND! That has been our LLMDS in many cases carrying us when we cold not carry ourselves!

God bless all the LLMDS in USA and internationally for taking us on when no one else would attempt to get us into REMISSION! I'd like to have a quality of life at age 58; 9 years disabled/not able to work anymore, and struggling daily!

Please to the board; REJECT the proposal stated in the article above.

MODIFY it to suit the situation here! We thank you!

[ 02. December 2007, 02:32 PM: Message edited by: bettyg ]

---

IP: Logged |
Contact Us | LymeNet home page | Privacy Statement

Powered by UBB.classic™ 6.7.3

---
The Lyme Disease Network is a non-profit organization funded by individual donations. If you would like to support the Network and the LymeNet system of Web services, please send your donations to:
The Lyme Disease Network of New Jersey
907 Pebble Creek Court, Pennington, NJ 08534 USA
http://www.lymenet.org/
---
Home | Flash Discussion | Support Groups | On-Line Library
Legal Resources | Medical Abstracts | Newsletter | Books
Pictures | Site Search | Links | Help/Questions
About LymeNet | Contact Us
---
© 1993-2020 The Lyme Disease Network of New Jersey, Inc.
All Rights Reserved.
Use of the LymeNet Site is subject to Terms and Conditions.
---